Graffiti Protection Systems
Commonly Used Graffiti Protection Systems
We only use the best, proven systems sourced world-wide from specialist manufacturers. Utilising the most cost-effective method for each situation, we recommend different methods of protection for each asset based on a risk/frequency equation and the specific substrate characteristics.
We have a range of proven anti-graffiti systems from different suppliers around the world and access to a specialist coatings research and development laboratory. Failures of graffiti protection are frequently a result of inappropriate system selection and application.
Examples of our two most-widely used graffiti protection systems are:-
Guardian Graffiti Shield
Guardian Anti-Graffiti Coatings – Clear or Pigmented to any colour (Solvent or Water-Based options.)
Guardian Graffiti Shield
Guardian Graffiti Shield is a high-quality sacrificial protective coating. It provides unobtrusive protection for stone, brick, and concrete surfaces while allowing the egress of moisture and salts.
Applications
Suitable for porous surfaces including:
Natural Stone
StoneStrong
Keystone
Allan Block
Concrete
Clay Brick and Tile
Selected Fibre Cement Board Systems
Features
Remains effective for over ten years
Quick drying time means almost immediate graffiti resistance
Highly unobtrusive
Allows water-vapour transmission
UV resistant; non-yellowing
Environmentally friendly
Water repellent
Reduces absorption of pollutants by porous surfaces
Clear, matt finish
Graffiti removal using low-pressure hot water
Ten-year warranty
Guardian Anti-Graffiti Coatings
Guardian Anti-Graffiti coatings are permanent (non-sacrificial) coatings which offer long-term protection from graffiti and environmental damage.   Numerous removals of graffiti over a period of years will not damage the protective coating or the underlying substrate.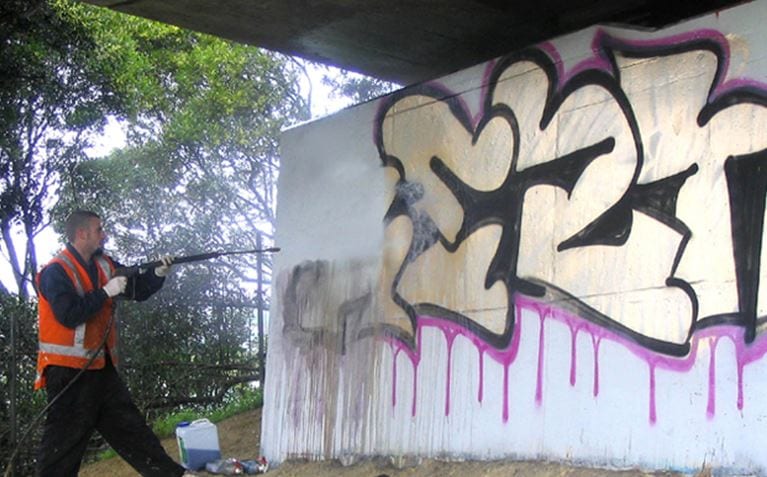 Applications
Guardian Anti-Graffiti Coatings are suitable for most non-porous surfaces, including:
Painted surfaces, including painted concrete
Plastics / Metal / Vinyl
Wood
Signs / Banners
Features
Permanent coatings
Quick drying time means almost immediate graffiti resistance
Available in 2000 colours, or clear
Exceedingly resistant to graffiti and solvents
UV resistant; non-yellowing
Abrasion, chemical, mould and salt-air resistant
Anti-carbonation certified
ISO 9002 manufactured
Gloss, satin or matt finishes
Easy and quick graffiti removal using Guardian Graffiti remover
Durable coating allows for multiple removals over many years
Simple cleaning of mould and pollution